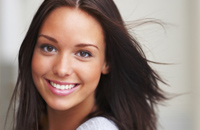 Welcome To Dr. Kevin Ellis
New patients are always welcome to our family dental practice! Located at the oceanfront, in Virginia Beach, Dr. Kevin Ellis has over 25 years experience specializing in cosmetic and restorative dentistry. In a gentle, friendly environment our staff is always eager to care for any dental needs, including tooth-colored fillings, crowns, bridges, dentures and tooth whitening. If you are interested in obtaining a beautiful smile, Dr. Kevin Ellis and our certified staff will be able to help you through the steps of Invisalign braces, which has been in our office for the past 10 years.
We follow up-to-date sterilization and always maintain a goal to keep our patients smiling and satisfied. Our patients are our priority and the staff attends continuing education courses to improve our patients' dental needs and education. Early morning and late evening appointments are available and we accept most insurance plans to meet our patients' needs. Established in 1989, Dr. Kevin Ellis is one of the top dentists in the Virginia Beach and Norfolk Metropolitan area.
205 34th St Ste 112
Virginia Beach, VA 23451
(757) 428-5491